More and more often, I am asked to translate documents, especially those for which no translation in English exists. I rather enjoy these freelance projects!
With raw knowledge, books I have accumulated, personal contacts, online resources, and some determination, I am comfortable to translate documents. And I am able to do so with a swift turn-around. Based on previous experience, I am able to translate approximately 200 words in less than one day.
I am proficient in French, Spanish, Brazilian Portuguese, and the International Phonetic Alphabet (IPA). I am also able to make sound recordings of text recitations and syllable-by-syllable phonetic guides. Here is an example of the format for IPA guides, from Orlande de Lassus' chanson Mon cœur se recommande à vous :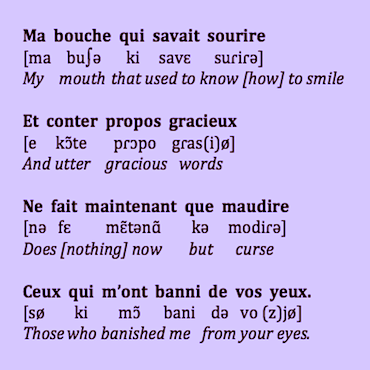 Recent projects include: translation of a letter from French composer Henri Duparc to composer Ernest Chausson; translation of the text in Olivier Messiaen's cantata La Mort du Nombre ; translation and IPA transcription for Maurice Ravel's opera L'Enfant et les Sortilèges ; and spoken IPA guides for songs Canção da ausência, Coração triste, and O menino doente by Brazilian composers Alberto Nepomuceno and Osvaldo Lacerda. To see or to listen to these or other examples, just ask.
My fee for translation is determined case by case, starting at a minimum of $50 USD. Contact me with specifics on what you envision, and we will negotiate a fee.